Xcelerate Watermelon Berry Sticks
Contains 24 servings
It's time to Xcelerate your daily cold drink ritual, with our best-in-class, Xcelerate energy beverage. This tropical fruit flavored, custom blended beverage was created for our non-coffee drinkers, and for those of you who prefer coffee in the morning and a cold energy beverage in the afternoon.
We've used the same amazing proprietary formulation found in our beloved Xcelerate coffee (minus the coffee of course), to deliver an almost magical blend of nootropics and energy enhancers that you'll love to drink as a pre-workout beverage, or as an anytime pick me up!
What exactly are nootropics you ask? Nootropics are cognitive enhancers found within naturally occurring compounds that help to naturally promote better mental focus and aid in the release of your own "feel-good" hormones, like Dopamine & Oxytocin. Each person's results will of course vary, but one thing's for sure, this great-tasting beverage will become a go-to favorite for quick energy and appetite control!
Enhanced Mood: Start your day on a brighter note as Xcelerate's carefully selected ingredients help support your mood, which provides you with a more positive outlook to tackle life's daily challenges.
Lasting Energy & No Crash: Bid farewell to energy crashes… Xcelerate's unique proprietary blend releases sustained energy throughout the day without the dreaded post-caffeine slump.
Appetite Suppression: Keep those bad snack cravings at bay, while experiencing better overall control of your appetite, helping you make healthier food choices.
Metabolism Boost: May aid in helping to kickstart your metabolism; thereby, assisting in burning calories more efficiently.
Weight Management: As you enjoy the taste of this fruity drink, you'll also feel the enjoyment of knowing that you're supporting your journey towards a happier and healthier you!

Convenient, 24 count, single serving Xcelerate Watermelon & Berry drink stick packs. This pre-workout, or anytime pick-me-up drink, contains many of the same powerful ingredients that our Xcelerate coffee does. It's a great way to power thru the afternoon crash, or to just turn up the heat whenever you want to get stuff done.
Not a coffee person? No worries, we've got you covered with our Watermelon-Berry Energy Drink. This energy drink is an identical formulation to our high octane coffee blend (minus the coffee of course), that will keep you focused and energized throughout the day. The great tasting watermelon-berry flavor profile for this Best-in-Class energy drink was personally crafted by our Founder after sitting in the lab with our flavor specialists for many long hours, so be sure to let us know how you like it!
Suggested Use: For adults, as a dietary supplement add one serving (one Stick pack-half of a pack for first time users) to 8 ounces of hot or cold water. Mix well and Enjoy!
L-Citrulline, Guarana (Paullinia cupana) (Seed) Extract, Beta Alanine, L-Tyrosine, Caffeine Anhydrous, Mucuna pruriens (Seed) Extract, LTheanine, Synephrine HCL, Acetyl L-Carnitine, Gamma Aminobutyric Acid (GABA), Green Tea (Leaf) Extract, Panax Ginseng (Whole Plant) Extract, Panax notoginseng (Whole Plant) Extract, Yohimbe (Pausinystalia johimbe) (Bark) Extract, Rauvolfia (Rauvolfia vomitora)(Bark) Extract, Huperzia serrata (Leaf) Extract.
Other Ingredients: Acacia Fiber, Citric Acid, Natural Flavors, Steviol Glycosides, Beet Powder (Color), Pink Himalayan Salt.
Contains: 190 mg of Caffeine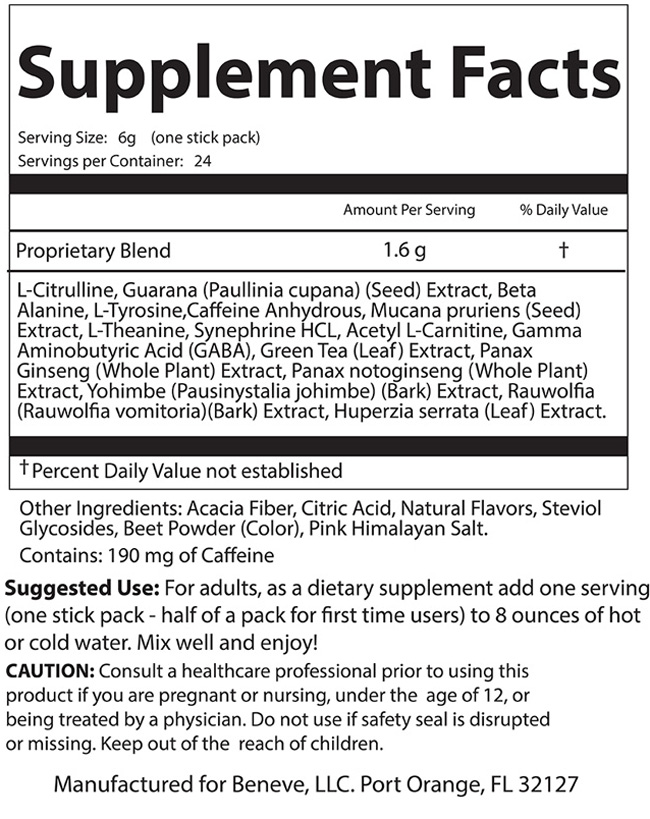 * RESULTS MAY VARY
* THESE STATEMENTS HAVE NOT BEEN EVALUATED BY THE FOOD AND DRUG ADMINISTRATION. THIS PRODUCT IS NOT INTENDED TO DIAGNOSE, TREAT, CURE OR PREVENT ANY DISEASE.