Xcelerate Lite Coffee TUB
Contains 30 servings
It's time to Xcelerate your daily coffee ritual, with our best-in-class, Xcelerate "Lite" functional coffee beverage. This custom blended "Liter" version of our original Xcelerate coffee (reduced level of both caffeine and secondary energy / nootropic enhancers), has been successfully infused with an almost magical blend of nootropics and energy enhancers that will forever improve your favorite cup of joe. What exactly are nootropics you ask? Nootropics are cognitive enhancers found within naturally occurring compounds that help to naturally promote better mental focus and the release of your own "feel-good" hormones, like Dopamine & Oxytocin. Each person's results will of course vary, but one thing's for sure, Xcelerate "Lite" will forever change your favorite coffee experience.
Enhanced Mood: Start your day on a brighter note as Xcelerate's carefully selected ingredients help support your mood, which provides you with a more positive outlook to tackle life's daily challenges.
Lasting Energy & No Crash: Bid farewell to energy crashes… Xcelerate's unique proprietary blend releases sustained energy throughout the day without the dreaded post-caffeine slump.
Appetite Suppression: Keep those bad snack cravings at bay, while experiencing better overall control of your appetite, helping you make healthier food choices.
Metabolism Boost: May aid in helping to kickstart your metabolism; thereby, assisting in burning calories more efficiently.
Weight Management: As you enjoy the taste of your cup of Xcelerate coffee, you'll also feel the enjoyment of knowing that you're supporting your journey towards a happier and healthier you.
A 'lite' version of our signature product with a great tasting Arabica bean instant Coffee blend, which is a true game-changer for today's coffee drinker. We all recognize that a regular cup of coffee is a good way to get your day started, but a cup of Xcelerate coffee is a GREAT way to start your day! Our blend of Arabica coffee and powerful botanicals is tantamount to the difference between water and high-octane rocket fuel for your brain and body. The testimonials on weight management, mood enhancement and appetite suppression are next level.

We had come to recognize that our unique Xcelerate coffee blend was a bit to strong for about 20% of our customer base. When questioned, this group communicated to us that a half scoop of Xcelerate was the perfect serving size. With this feedback in mind, our formulators began the work of creating a dynamic, but "lighter" version of our Xcelerate Coffee since a full serving scoop is necessary to deliver the full array of nutrients and appetite suppressants. In short, our formulators designed a smooth, time released energy boost that will allow everyone to enjoy the amazing benefits of our newest coffee product, Xcelerate Lite! This coffee is the answer for those of you who felt that our original Xcelerate formulation left you feeling a bit overstimulated.
For adults, as a dietary supplement add one serving (one scoop - half of a scoop for first time users) to 8 ounces of hot or cold water. Mix well and enjoy!
Premium Coffee Blend, L-Citrulline, Guarana (Paullinia cupana) (Seed) Extract, Beta Alanine, L-Tyrosine, Caffeine Anhydrous, Mucuna pruriens (Seed) Extract, L-Theanine, Acetyl-L-Carnitine, Gamma Aminobutyric Acid (GABA), Green Tea (Leaf) Extract, Panax Ginseng (Whole Plant) Extract, Panax notoginseng (Whole Plant) Extract, Yohimbe (Pausinystalia johimbe) (Bark) Extract and Rauwolscine (Rauvolfia tetraphylla) (Leaf) Extract.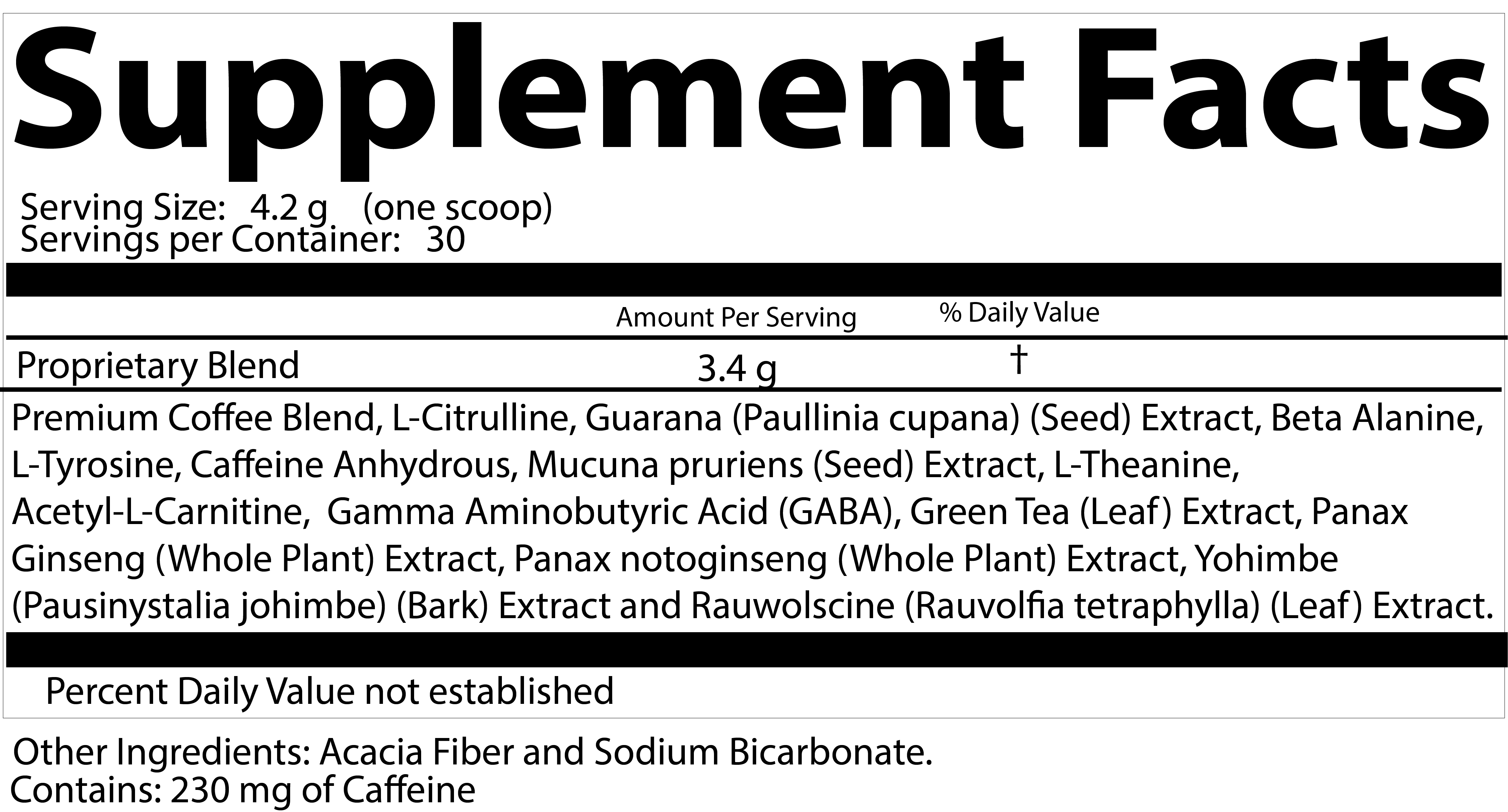 * RESULTS MAY VARY
* THESE STATEMENTS HAVE NOT BEEN EVALUATED BY THE FOOD AND DRUG ADMINISTRATION. THIS PRODUCT IS NOT INTENDED TO DIAGNOSE, TREAT, CURE OR PREVENT ANY DISEASE.